Adventures with Vuta and Äksel!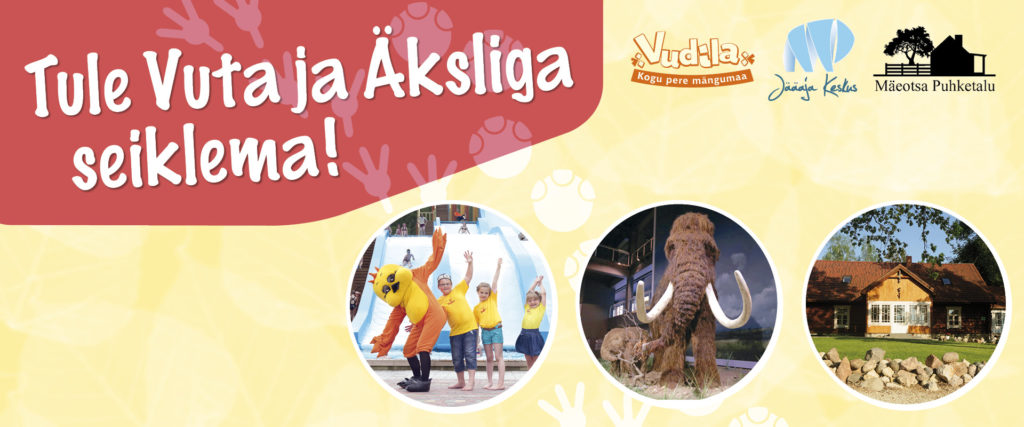 Come with your family for a two-day adventure and combine gameplay and education.
On the shore of Lake Kaiavere, children and adults are welcomed to Vudila Playland. As the largest playland for whole family in Estonia combines a water park, amusement park, a trampoline center and an animal park. The Ice Age Center, just 10 km from Vudila, offers a fascinating insight of the period from the Ice Age to today. Throughout the journey you will see mammoths, cave lions, polar foxes, polar bears and a host of other interesting animals.
When your thirst for education is sated and you are tired from all the fun you can then travel to the Mäeotsa Holiday Resort and immerse yourself in the surrounding nature and rejuvenate yourself. The overnight stay is just 9 km from Vudila and 8 km from the Ice Age Center.
A two-day visitors package for five (2 adults and up to 3 children under 19) costs 137 eur.
NB! You can book and buy a package when you call the Mäeotsa Resort. A voucher will be issued at the resort which will then facilitate the entrance to the booked sites.
We look forward welcoming you from 1 July to 23 August
Tuesday – Sunday 11:00hrs-19:00hrs
Info:
info@jaaaeg.ee, tel: 5911 3318
www.jaaaeg.ee
info@vudila.ee, tel: 58224224
www.vudila.ee
info@maeotsapuhketalu.ee, tel:5251210
www.maeotsapuhketalu.ee